The Malaysia e-wallet landscape - What is e-wallet? and What is e-money? Who are the e-wallet providers? Will Malaysian adopt it? and more...
This article requires 15-30 minutes read, you can also check this
e-wallet Malaysia infographic
for easy-to-digest and quick understanding of e-wallet landscape in Malaysia.
#1. The dawn of the e-wallet infinity war
The Malaysia e-wallet Infinity War has just begun
If you have to name one emerging trend in digital and e-commerce space here in Malaysia, in 2018, what would it be? The talk of the town, the key battlefield is definitely e-wallet (or
Dompet Digital
in Malay language). This is a key development as we foresee it will fulfill its potential to transform not just how consumers transfer money to each other, it will also change how consumers pay for products and services, both offline or online.
Truth to be told, e-wallet is a game of two-sided markets. In order to be successful, e-wallet provider needs to have payment adoption by consumers, and also payment acceptance by merchants, both at massive scale.
Make no mistake, this is going to be a long-term battle which will take years in an attempt to change Malaysia consumer behavior, as we still predominantly a cash society with 80% of our transactions are still done in cash. As far as "cashless" is concerned, we are quite well served by the cards (Visa and Mastercard) considering we have over 52 million credit and debit cards circulated in the market.
For the e-wallet providers, it will require serious war chest to continuously lure consumers to adopt in mass (at the same time, onboard more merchants) until the habit of using e-wallet takes place and naturally becoming part of the consumers' lifestyle.
Up to date, there are already
37 non-bank e-money licenses
being issued by Bank Negara Malaysia (BNM). Unofficially, we were told, a total of 40 over licenses are already issued. However, you will only find e-wallets which have already gone live
listed on BNM website
(under the E-money issuers category).
So, why does it concern you as a merchant? If you are a merchant selling products to consumers, you will need to evaluate the impacts across these few real-life scenarios.
(i) How consumers will pay offline? (Retail + Data)
- You might leave your wallet at home, but you are unlikely to forget your mobile phone.
High penetration of smart phone in Malaysia
made it a fertile soil for fast growth in mobile payment. One thing is certain, with all the cashless policies by BNM, cash usage will reduce over time, and the adoption of mobile payments will only go up.
(ii) How consumers will pay online? (eCommerce + Data)
- Online payment gateway providers like iPay88 and aggregators already start to offer e-wallet as one of the payment options. This allows merchants to accept the e-wallet payment with ease. What's next? We will probably expect tight integration of e-wallet payment into mobile commerce. Just imagine Lazada or Shopee supporting checkout with e-wallet with just your thumbprint or face!
Screenshots of e-wallet payment option supported by iPay88 online payment gateway
(iii) How consumers make payment to each other? (P2P Transfer)
- Imagine a scenario where restaurant bills are easily split when we go Dutch, and transfer of small changes (say goodbye to coins) with just a few taps on your mobile. The sending or receiving of money via e-wallet app is way easier and faster than online bank transfer.
(iv) How merchants keep the customers coming back? (Big Data + Loyalty & Rewards)
- All this while, most retailers do not know any details of their cash-paying customers. This will change, with the adoption of e-wallet, we foresee more merchants will combine data (a.k.a. the new oil), analytical and loyalty technology to serve their customers better and keep them coming back for more.
#2. Does e-wallet provider need a license in Malaysia?
The more accurate question would be, does
e-money provider
, need a license in Malaysia? This is because what Bank Negara Malaysia (BNM) really regulate, is actually e-money, the digital money that gets stored in the e-wallet.
Let's see how BNM defines e-money.
The Financial Services Act 2013 defines e-money as a payment instrument, whether tangible or intangible, that stores funds electronically in exchange of funds paid to the issuer and is able to be used as a means of making payment to any person other than the issuer.
Therefore, e-money is legally recognized as a valid and enforceable legal tender in Malaysia.
In short, any open-loop e-money provider will require an e-money license by BNM.
Open-loop
means that the e-money issued by the provider can be spent or transferred to third parties apart from the provider itself.
All e-money licensees are governed by Financial Services Act 2013, Islamic Financial Services Act 2013 and all directives, orders or guidelines issued thereunder including any guidelines issued by BNM.
Note:
The Financial Services Act (FSA) and the Islamic Financial Services Act (IFSA)
came into force on 30 June 2013, replacing the repealed Payment System Act 2003 (PSA).
E-money is categorized as one of the Payment Instruments (PI) (Source: BNM website)
#3. What is Bank Negara Malaysia policy on e-wallet?
Bank Negara Malaysia (BNM) has set its goal to turn Malaysia into a cashless society.
The main benefits for Malaysia? A cashless society may result in savings amounting up to 1% of a country's economy due to lower retail payment cost versus cash transactions.
Thus, BNM has initiated
ICTF (Interoperable Credit Transfer Framework)
to spur the next wave of e-payment adoption. It has gone into effect since 1st July 2018
With ICTF, BNM wants to encourage innovation and competition by ensuring both banks and non-banks (e.g. Touch 'n Go eWallet, Boost, WeChat Pay etc) to have a fair and open access to a shared payment infrastructure, which will be operated by Paynet (Payments Network Malaysia, jointly owned by BNM and 11 local banks)
In pursuant to the Framework, PayNet is developing a platform called
RPP (Real-time Retail Payments Platform)
utilizing the technology solution by
ACI network
. RPP is the critical component of ICTF to enable interoperability of Inter-Bank Credit Transfer and Inter-Scheme (e-money) Credit Transfer. It basically means, bank and non-banks will be connected on a single payment network, and transfer of money among banks and non-banks will be made possible.
RPP will consist of these 2 elements:
A National Addressing Database (NAD) - A national level database which will link your bank or e-money account to your mobile phone number, your identification number (IC) or your business registration number. This is to enable anyone to transfer money to other parties by just using these easier-to-remember details compared to the bank account number. You can see the first implementation in DuitNow, which is slated to be rolled out by the end of 2018. Once DuitNow is implemented, customers may make payments by accessing DuitNow under the 'Funds Transfer' menu of their respective banks' Internet banking portal or mobile banking app.


An Interoperable QR Scheme and Common QR codes - One of the main challenges now is merchants adopting e-wallet will carry a static, proprietary QR code from respective e-wallet providers. It will become a hassle for merchants to display all the QR codes, and it can be very confusing for the consumers too. To streamline this, banks and qualified e-money issuers are required to a utilize QR code that complies with the interoperable QR code payment scheme set by Paynet. In laymen terms, it means that we can easily transfer money by just using any e-wallet app to scan any 3rd party QR code which is already complied with the Paynet QR standard. The interoperable QR Code scheme will adopt the standard by EMVCo.
What ICTF does for Interoperable QR Payment in the near future?
The benefits are obvious with ICTF, seamless and secure payments between the bank and non-bank (e-money) accounts will become a reality. Furthermore, ICTF policy will also bring down the cost of transaction fee which we are now enjoying. Have you noticed that the fee is already waived for both IBG and Instant Transfer if you transfer RM5000 or less? This will further encourage the usage of e-payment.
In a similar effort to BNM, Singapore government
has rolled out SGQR Code
. This is slightly different from our BNM approach as MAS (Monetary Authority of Singapore) enforce only a common QR code (SGQR) to be displayed by the merchant.
However, unlike SGQR, BNM will not enforce a common QR to be displayed by merchants. Merchants will be allowed to display the static QR code by the e-wallet providers, allowing merchants more flexibility as they see fit.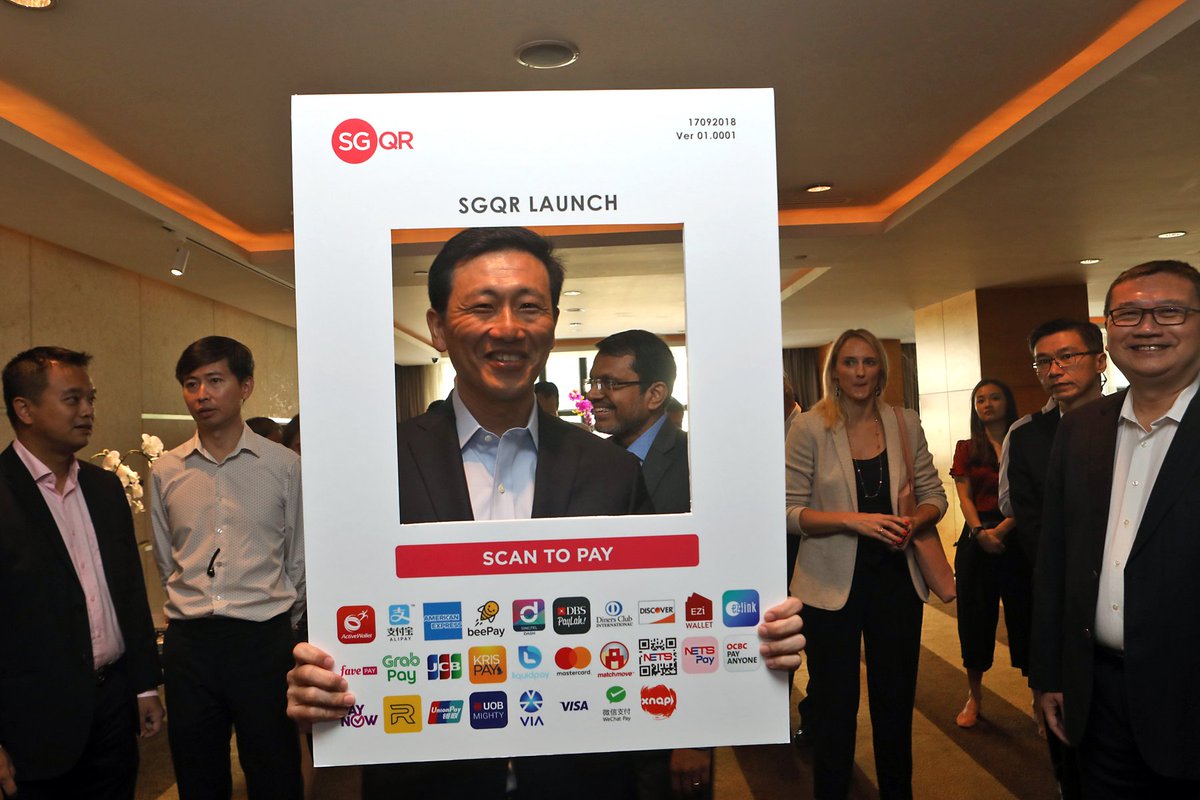 Singapore Education Minister Ong Ye Kung, who is also a board member of the Monetary Authority of Singapore (MAS), holding a selfie board with the 27 payment schemes onboard on SGQR (Source: MAS Twitter)
If you wish to learn more about what BNM is doing to drive Malaysia towards a cashless society,
listen to Tan Nyat Chuan
, Director of Payment Systems Policy, Bank Negara Malaysia.
Some BNM goals and its numbers to put you in perspective:
BNM intends to increase the number of card terminals from fewer than 300,000 to 800,000 "chip-and-pin" in 2020 and one billion debit transactions by 2020.
To increase the number of machines from 8 to 25 POS terminals per 1,000 capita by 2020 (to accept debit, credit and prepaid cards)
Bring down the usage of cheques from 200 million to 100 million.
#4. Who are the e-wallet providers in Malaysia?
Let's first investigate how many e-money licenses have BNM granted so far? The answer is
42 e-money licenses
at the time of publishing - 5 banks, and 37 non-banks.
We are expecting a few more e-money issuers, notably
Telekom Malaysia
and MyEG which had announced the intention to join the e-wallet bandwagon.
On another hand, we have witnessed Payfy (by Astro) and
Setel (by Petronas Dagangan)
launching their own e-wallets app. We think these two are interesting ones to monitor even both remain close-loop for now. Obviously, Payfy is able to tap on Astro's 3.3 million subscribers base, and we foresee it will be tightly integrated to its Astro Go Shop (TV Shopping).
How about Setel? It is the first e-wallet app integrated with (Petronas) fuel pumps in Southeast Asia, allowing you to pay for fuel without even leaving the car. Setel aims to cover all the 1,045+ Petronas stations by the end of 2019. It also supports linking to Petronas Mesra Cards (with more than 7 million circulations in Malaysia) and features like converting the Mesra points to e-money are already in the roadmap.
eCommerce marketplaces have also launched a similar "e-wallet" feature in their app, namely
Lazada Wallet
and we foresee Shopee will launch its own e-wallet dubbed AirPay in 2019.
We list down below the full list of e-money issuers licensed by BNM in Malaysia and its related e-wallet products. A logo will only be displayed for issuers with an e-wallet app that has gone live (which you can download and use).
E-money Issuers (Banks) - Total 5
Banks
Products
AmBank (M) Berhad
Prepaid Card (MasterCard)
Bank of China (M) Berhad
Prepaid Card (China Union Pay)
CIMB Bank Berhad
Prepaid Card (MasterCard)
CIMB Pay
Malayan Banking Berhad
Prepaid Card (Visa)
Maybank Pay



RHB Bank Berhad
Prepaid Card (Visa)
E-money Issuers (Non-Banks) - Total 37
Non-Banks
Products
AEON Credit Services (M) Berhad

AEON e-wallet
Alipay Malaysia Sdn Bhd
(formerly known as helloPay Malaysia Sdn Bhd)

Alipay - Enable merchants in Malaysia to accept payment from Chinese tourists.

Axiata Digital eCode Sdn. Bhd.

Boost e-wallet



Bandar Utama City Centre Sdn. Bhd.
ONECARD
BigPay Malaysia Sdn. Bhd.

BigPay e-wallet

Celcom eCommerce Sdn. Bhd.
(formerly known as Celcom Multimedia (Malaysia) Sdn. Bhd.)
N/A
DIV Services Sdn Bhd
(formerly known as ePetrol Services Sdn Bhd)
Whatlet.com.my - Card for school
Fass Payment Solutions Sdn. Bhd.

Fasspay e-wallet
Finexus Cards Sdn. Bhd.
(formerly known as MAA Cards Sdn. Bhd.)
Kedah Pay (State-driven initiative)
Has not gone live yet.
Fullrich Malaysia Sdn Bhd



TaPay e-wallet
GPay Network (M) Sdn Bhd

GrabPay e-wallet
Ipay88 (M) Sdn Bhd
White label e-wallet solutions to partners who provide wallet solutions for their community / vertical etc.
I-serve Payment Gateway Sdn Bhd
Upay
JuruQuest Consulting Sdn Bhd

QBpay e-wallet
ManagePay Services Sdn. Bhd.

MPay e-wallet
Maxis Broadband Sdn. Bhd.
Maxis Pay
Merchantrade Asia Sdn Bhd

Merchantrade Money e-wallet

Mobile Money International Sdn. Bhd.
Mobile Money
MobilityOne Sdn Bhd
One Pay (for agents, bill payment, reload providers)
MOL AccessPortal Sdn. Bhd.

Razer Pay e-wallet
(Formerly known as One2Pay)
MRuncit Commerce Sdn. Bhd.



MCash e-wallet


Numoni DFS Sdn. Bhd. (formerly known as Com2U Sdn. Bhd.)
NAPP - Money Transfer App
PayPal Pte. Ltd.
PayPal
Petron Fuel International Sdn. Bhd.
Petron Fleet Card
Presto Pay Sdn Bhd
(formerly known as EPP Solutions Sdn Bhd)

Presto e-wallet
Raffcomm Sdn. Bhd.

HotWallet e-wallet
Shell Malaysia Trading Sdn. Bhd.
Shell Fleet Card
SiliconNet Technologies Sdn. Bhd.

Sarawak Pay e-wallet (State-driven initiative)
Silverlake Global Payments Sdn. Bhd.
UTAR Silver Card
SMJ Teratai Sdn Bhd

eWang e-wallet
Touch 'n Go Sdn. Bhd.
Touch 'n Go Card
TNG Digital Sdn Bhd

Touch 'n Go eWallet
Valyou Sdn. Bhd.

Vcash e-wallet
WeChat Pay Malaysia Sdn. Bhd.

WeChat Pay e-wallet
Webonline Dot Com Sdn. Bhd.

KiplePay e-wallet
XOX Com Sdn. Bhd
MyXOX
#5. Which e-wallet providers will stay in the long run?
Who will end up with the last laugh? While it is way too early to tell, however, in our opinion, those with millions of existing user base will have a serious edge in the e-wallet infinity war.
Among the e-money issuers, there are a few 800-pound gorillas in the race, namely Touch 'n Go Digital (a joint venture between Alipay and Touch 'n Go),
WeChat Pay
(Tencent Group),
GrabPay
, Boost (Axiata), BigPay (75% owned by AirAsia), and
AEON Wallet
(AEON Group). All these providers have access to an existing user base in the millions, not to mention the technology and financial muscles they can wield.
Let's summarize below why these gorillas "roar" in the battle against cash:
AEON Wallet - AEON is one of the largest retail groups in Malaysia with millions of existing AEON members in its RM12-per-year paid loyalty program. The new e-wallet that ties to a Visa Prepaid Card is developed by AEON Credit Service. They are aggressively recruiting users via all the brick-and-mortar outlets. Self-checkout at stores using AEON Wallet could be in the pipeline too.

Boost - A homegrown (by Axiata Group) network based e-wallet provider that started from scratch and now boosted with 3.3 million registered users, 50,000 touch points and supported by 10,000 cab drivers. Boost is arguably one of the most aggressive in marketing with users loving its shake rewards for each transaction made. Boost announced a partnership with UnionPay International (UPI) in July 2018 and soon its users will be able to make payment to any merchants accepting UnionPay cards.

BigPay - BigPay (Rebranded from Tune Card) is the cashless push by AirAsia Bhd, who owns 75% of BigPay. The famous, high-profile AirAsia Group CEO, Tony Fernandez claimed that one day, BigPay will worth more than AirAsia. BigPay partners with Mastercard and it will tap into AirAsia's 63 million customers base to expand its usage.

GrabPay - Grab needs no introduction, every 1 out of 2 smartphones in Malaysia are installed with Grab. Not content with just ride-hailing, its ambition is to become the WeChat-like super-app of Southeast Asia, and GrabPay e-wallet is an integral part of the strategy. Backed by 120 million downloads across Southeast Asia, it recently also announced a partnership with Mastercard which will link a Mastercard Prepaid Card to GrabPay.

Touch 'n Go eWallet - All Malaysians know Touch 'n Go - the de-facto cashless payment for our road tolls. The new e-wallet venture is a joint venture between Touch 'n Go and Ant Financial (Alibaba). TNG has recently announced surpassing 1 million users and they have an edge in branding and also accessibility in public transportation use case such as toll, parking, bus payment etc.

WeChat Pay - WeChat claimed that there are 20 million WeChat users in Malaysia, and Malaysia is the first country outside of China to have obtained an e-money license. Unlike Alibaba who prefer a strategy to form JV with local players, WeChat Pay directly setup and operate in Malaysia by partnering with a number of merchant acquirers such as Hong Leong Bank, MOL Pay, iPay88 and Revenue Monster. With CNY 2019 around the corner, will WeChat replicate its China "red packet" (a.k.a angpow) strategy in Malaysia to boost its user acquisition?
#6. Will Malaysians use e-wallet?
The million dollar question is, "In a 31 million population market which is already very well-served by online banking, debit card, and credit cards, why would we care about e-wallet? "
Cards, are cashless payment too. If we refer to the
latest statistic published by BNM
, there are currently
10.3 million credit cards and 42.1 million debit cards
circulating in Malaysia.
So, will the consumers even care to adopt e-wallet?
Old habits die hard. If you take a look at the United States, e-wallet is not the mainstream, they don't use it actively for in-store purchase nor person-to-person (P2P) transfer. This is because it is a market already well-served by credit and debit cards, just like Malaysia.
Even for Google Wallet or Apple Pay, both are actually just an e-wallet app that stores your credit or debit card details (as tokens) in the app to use it for payment. Industry call this "Pass-Through", and technically, they are riding on existing card scheme networks, not creating something from scratch like Boost or WeChat Pay.
According to a survey by Statistica, here are the top reasons why US consumers are not adopting e-wallet, will the same thing happen in Malaysia?
It is fair to say that the whole world is bench-marking China on e-wallet, as it enjoys massive success in e-wallet adoption, primarily due to the market is under-served by card network. You might want to understand why credit card adoption has been slow in China by referring to
this Quora article
.
China Mobile Payment (covering wholesale, retail, online, offline, P2P etc) is larger than the China GDP (Source: Kai-Fu Lee Ted Talk)
Let's go "small picture" by taking a look at real-life scenarios. Not long ago, my father just asked me, why he need to use e-wallet when he already got his credit cards?
Obviously, he doesn't see a need for that, unless, if there are some exclusive e-wallet deals which he can only enjoy by using the e-wallet. Even so, will the behavior of using e-wallet stick after that?
There is a
mamak
restaurant I frequented which accepts e-wallet payment. The staffs shared that their e-wallet transaction is now averaging about RM200 plus daily, RM500 plus on a peak day. Majority of the users are students (young people aged between 18 and 22) and some bank officers too.
As you can see, what my father thinks about e-wallet does not matter that much really. Why is it so?
This is because what the market tells you matters the most, especially for consumer-facing businesses (e-wallet, e-commerce, e-hailing etc), young people adoption is an early sign that it might actually... work!
And once the millennial adopt it, they will teach the elder how to use it.
"We always overestimate the change that will occur in the next two years and underestimate the change that will occur in the next ten" Bill Gates, Microsoft Co-founder
What, and how long will it take to change the consumers status quo?
In the longer run, it will work. This is especially true for any nation with a large number of young generation that grows up with mobile Internet. We are positive that in less than 5 years time, the young generations who grow up with the Internet will adopt it.
If you look at China, WeChat Pay was introduced in 2013, the adoption wasn't successful right from the start. Not everyone is using WeChat Pay "just like that" after the initial launch. The moment of truth came at a price tag of USD80 million when they launched their red packet (Hong Bao 红包) features during 2014. This had bolstered their way to massive consumers adoption, from 30 to 100 million WeChat Pay user within a month (out of 400 million WeChat users back then).
Besides, the latest BNM's data reported about 42.8 million mobile phone subscriptions (~70% smartphones) in the country, a pretty ripe environment ready for the growth of e-wallet ecosystem.
How about the merchants? Most of them will go with the flow and support e-wallets with huge user base. For example, KK Super Mart is a good case study for fellow merchants to benchmark. This Malaysia-based convenience store with around 350 stores nationwide, is arguably the most aggressive merchant in Malaysia that adopt and promote e-wallet to its customers.
KK Super Mart, reaping the benefits of acquiring new customers by working closely with e-wallet providers (Source: Revenue Monster FB Page)
#7. Understanding e-wallet 1-2-3
What is e-wallet? What is e-money?
People are always confused with these 2 terms, is e-wallet also e-money?
Imagine your own wallet (
dompet
in Malay) - you keep your Identity Card (IC), debit card, prepaid card, credit card, loyalty card, personal photo, receipts etc in your wallet.
E-wallet is like the digital equivalent of your real-world physical wallet, just that it appears as an app in your smartphone.
In many ways, it mimics your physical wallet, where you store your money, credit card, debit card, or prepaid card details (some use Tokenization technology) inside the digital wallet. On top of that, e-wallets usually offer features built-in like loyalty, bill payment, parking payment, voucher purchase etc to make it useful and convenient for the consumers.
As for e-money? It is like our money in either coins or notes, just that it appears as digital numbers inside an e-wallet, where the value is stored on the network (cloud).
This is how Bank Negara Malaysia
defines e-money
:
Electronic money (e-money) is a payment instrument that contains monetary value that is paid in advance by the user to the e-money issuer. The user of e-money can make payments for purchases of goods and services to merchants who accept the e-money as payment.

E-money can be issued in different forms, such as card-based (e.g. prepaid card) and network-based which can be accessible via the internet, mobile phones or any other devices.

There are two types of e-money schemes, i.e. small scheme and large scheme, which is determined by the purse size and the outstanding e-money liabilities.
As you can see, there is a difference between e-wallet and e-money. However, since most e-money issuers provide their own version of e-wallet app, all can be categorized as e-wallet providers for the sake of simplicity.
Only e-wallet providers who issue e-money which can be used with multiple merchants (technically known as "open-loop"), will require an e-money license from Bank Negara Malaysia.
How many types of e-wallets are there?
In general, there are 2 types of open-loop e-wallet:
Network-based e-wallet - Network-based e-wallet "stores" digital money on the cloud, for example Boost, WeChat Pay etc. They are not tied to any card network like Visa, Mastercard or UnionPay International.

Card-based e-wallet - Card-based e-wallet is riding on existing card network, for example BigPay, which ties to Mastercard Prepaid Card, or AEON Wallet, which ties to Visa Prepaid Card.
Many have mistaken Fave and Samsung Pay as e-money issuers. Technically, both of them can only be perceived as mobile payment app that facilitates reward program such as cashback, discount etc.
As you can use Fave or Samsung Pay to pay third-party merchants (open-loop), you cannot top-up balance with cash or cards. However, they allow you to link your existing credit or debit card. When you make payment, it will trigger a charge to your card - a "
Pass Through" in industry terms.
Types of e-wallet in Malaysia (click to enlarge)
What are the must-have features for e-wallet?
Based on the technology availability and trends, a full-fledged, fully functional e-wallet has to fulfill a list of criteria listed below:
It has to be available as an app for both Android and iOS (Apple).
It must allow you to top-up the balance, via online banking, debit card, credit card, or cash.
It must allow you to do a Personal to Personal (P2P) transfer.
It must allow you to scan a static QR code by the merchant to make payment.
It must be made available to all the consumers (mass market).
It must already be accepted by merchants (physical brick & mortar or online).
It must be an open-loop - support payments to third-party merchants.
It must obtain the e-Money Issuers License from BNM.
Stay tuned as we are going to cover each e-wallet provider with an in-depth review.
#8. Why should retailers or e-tailers care?
It's still very early in the game, yet, some of the benefits for merchants are quite obvious. The early bird gets the worm, so the early merchant gets the bonuses.
Firstly, e-wallet providers offer a lower transaction cost vs credit card, usually 1.2% or below, with some introducing zero transaction fee to encourage merchant's adoption.
Secondly, the lesser cash transaction, the lesser hassle in handling loose change, especially the coins.
Thirdly, it will be more secured and speedier with less human error when it comes to the account closing at the end of the day.
Fourth, DATA!!! You might not know anything about your cash-paying customers, but you will start to know them via e-wallet starting with their name, and more depends on the e-wallet features.
Last but not the least, early adopters will reap marketing benefits by working hand-in-hand with well-funded e-wallet provider. This will benefit you greatly to acquire new customers or even encourage existing customers to come back and spend more.
E-wallet payment options like Razer Pay (previously known as One2Pay) is integrated into 7-eleven POS system.
#9. How to differentiate Static vs Dynamic QR payment?
In fact, there are 3 types of QR payments mode:
(i) Static QR by Merchant
- Customers to scan the QR code displayed by merchants, enter the amount to pay, and then authorize the payment. There are a couple of steps for the customers but this is the easiest for the merchants to adopt as it doesn't require any integration with the POS system.
(ii) Dynamic QR by Merchant
- The dynamic QR code is generated by merchants, with the amount stated. Customers just need to scan and pay, without the need of entering the amount to pay.
(iii) Dynamic QR by Customer
- Customers to authorize the QR code to be shown on the app for merchants to scan. Similar with above, customers don't need to enter the amount to pay.
#10. Who will win: network-based or card-based e-wallet?
Who is leading the race right now? From the data announced publicly, Boost has 3.3 million registered users, while Touch 'n Go eWallet just celebrated its first million registered users.
Both above are network-based e-wallet.
But will Malaysia with a society already so familiar with card usage, namely Visa and Mastercard, witness card-based e-wallet (hybrid) dominating the market in the future? Obviously, both the card scheme giants will not want to be left out of the mobile payment scene.
Let's take a look at the companies which have already launched card-based e-wallets in Malaysia.
We have AEON Wallet which is riding on Visa Prepaid Card, the e-wallet (and card) can be used in AEON, AEON BIG, AEON Wellness etc. This hybrid model also adopted by BigPay (Mastercard), Merchantrade Money (Visa), MPay Walet (Mastercard), soon to be followed by GrabPay (Mastercard) and also Boost (UnionPay International, a subsidiary of China Union Pay, CUP).
When card-based e-wallet providers work with Visa, Mastercard or UnionPay International, their payment products are instantly available to all the existing, card-accepting merchants, without the need to go through the time-consuming merchant acquisition and onboarding process. It will also make cross-countries remittance easier, faster as they are powered by the card scheme infrastructure.
However, network-based e-wallets providers would argue, that consumers do not want to carry their physical wallets or cards in the future.
The real enemies for adoption are 2Cs - Cash and Consumer Behaviors.
Of course, it will take a lot more to win the heart of consumers. The fact is, most consumers don't care whether the e-wallet is linked to a card or not! Consumers just want something fast, secure, simple, intuitive, convenient, cheap, and solve their day-to-day problem. One good example is a feature (pioneered by MCash e-wallet) which let us easily pay for DBKL parking via the e-wallet app.
MCash e-wallet pioneered the "Pay-for-Parking" feature - such feature solves real pain points of the consumer, something people would use without much incentive (subsidization)
The holy grail for all e-wallets is to become the super-app, the lifestyle app for consumers. Once the mass stick to a particular e-wallet, we will know by then who holds the trump card.
Given time, we believe e-wallet will forever transform the retail and e-commerce landscape.
Whoever wins, Malaysia in charting a new course to the cashless era.
Interested to know more and following up on the trends and insights for e-wallet? Join the e-wallet Malaysia FB group by ecInsider now!